Jurassic World: Dominion Dominates Fandom Wikis - The Loop
Play Sound
Emma Peel
Gender
Female
Height
5'-8½"
Nationality
English
Occupation
Unofficial undercover operative
Active duty
1965-1967
Series information
First appearance

The Town of No Return

Last appearance

The Forget-Me-Not

Portrayed by
Diana Rigg (series)
Uma Thurman (film)
Emma Peel (neé Knight), is the daughter of an industrialist, Sir John Knight, and was an Super-Spy who worked alongside John Steed from 1965 to 1967 until her husband Peter Peel surprisingly reappeared.
Biography
[
]
She is a heroine; she is rarely defeated in fights and is capable of rescuing Steed if he is in trouble. She is a master of martial arts and a formidable fencer. A certified genius, she specializes in chemistry and other sciences. She is often seen in episodes engaging in artistic hobbies and had success in industry at the helm of the company of her late father, Sir John Knight. Her husband, Peter Peel, was a pilot whose plane disappeared over the Amazonian forest. He was presumed dead for many years, and Peel went on to work with Steed. She drove a convertible Lotus Elan at high speeds, and convincingly portrayed any series of undercover roles, from nurse to nanny. Her favourite guise was that of a women's magazine reporter, trying to interview big business tycoons and rich playboys.
Peel's verbal interactions with Steed range from witty banter to thinly disguised innuendo. Regarding the question of whether they had a sexual relationship at any time, Patrick Macnee thought they went to bed on a very regular basis (just not in view of the camera), Rigg thought they were engaged in a very enjoyable extended flirtation that ultimately went nowhere, and Brian Clemens said he wrote them with the idea they had an affair before Emma's first appearance in the series.
Appearance
[
]
Her style of dress typified the period, and the character is still a fashion icon. John Bates was brought in as the costume designer for Emma Peel in the second half of the fourth series. He created a wardrobe of black and white op-art mod clothing and mini skirts. Before this, people had believed that lines, circles and other bold patterns would not work on the television cameras of the day. It was also filmed before the mini skirt had become mainstream. Bates even had to stop leaving hems on the mini skirts because the production team kept lowering them again. He also licensed his designs to several manufacturers under the Avengerswear label and these pieces were sold in various shops throughout the country. Diana Rigg is often remembered for the leather catsuit she wore early on in her first season. She in fact disliked wearing leather, so Bates designed softer stretch jersey and PVC catsuits for her instead.
The Avengers (film)
[
]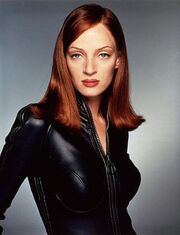 Dr. Emma Peel was a government scientist who worked as the chief of the Prospero Program. Her husband was a pilot for the ministry that disappeared in a flight over the Amazon. After the Prospero weather shield was destroyed Mrs. Peel became a prime suspect and was ordered to work with John Steed to uncover the true culprit. Steed and Peel worked together to stop Sir August de Wynter from using Prospero technology to manipulate the weather and extort nations.