John Wickham Gascoyne Beresford Steed
Gender
Male
Height
6'-1"
Weight
175 lbs
Nationality
English
Occupation
Secret agent
Active duty
ca. 1943-?
Series information
First appearance

Hot Snow

Last appearance

Emily

Portrayed by
Patrick Macnee (series)


Donald Monat

(radio)


Simon Oates

(play)
Ralph Fiennes (film)


Julian Wadham

(audio)
Major The Hon. John Wickham Gascoyne Beresford Steed MC, OM is usually known as John Steed, is a secret agent working for an unnamed branch of British intelligence. He was teamed with a variety of partners, including Dr. David Keel, Venus Smith, Dr Martin King, Cathy Gale, Emma Peel, Tara King, Lady Diana Forbes-Blakeney, Purdey, and Mike Gambit.
Biography
[
]
Steed was born John Wickham Gascoyne Beresford Steed sometime between 1922 and 1925 (the actor who played him, Patrick Macnee, was born 1922). A scion of a noble family, Steed attended Eton (like Macnee), where he once got into a fight with the school bully, James Bond, and was eventually expelled (like Macnee).[4] Steed's best friend was Mark Crayford who later followed him into British Intelligence. However Crayford was always secretly jealous of Steed and later defected to the Soviet Union and attempted to destroy Steed and his legacy[5] He was a distinguished veteran of World War II (like Macnee—but here their bios begin to diverge), training with the Coldstream Guards[6] and then transferring to the Intelligence Corps. He spent the early part of his war service posted at RAF Camp 472 Hamelin, which was a jumping-off point for British spies on the continent.[7] He received the Military Cross for single-handedly taking a German machine-gun post. Before leaving the British Army to join "The Ministry" in 1945, Steed achieved the rank of Major.
He maintained a modest mews flat in London during the 1960s (first at 5 Westminster Mews, later at 3 Stable Mews) and drove a variety of elaborate, old-fashioned cars, including a Rolls Royce and several different models of Bentley, one of which he calls Fido. In one episode also a Vauxhall 30/98 can be seen.
By The New Avengers, Steed had moved out to the country, to a manor house known as "Steed's Stud", and was no longer driving vintage cars, but contemporary Jaguars instead. There are no further details regarding his family although he does refer to having a 13-year-old nephew in "Legacy of Death".
Appearance
[
]
One of Steed's trademarks was his impeccable dress, often consisting of a three-piece suit with bowler hat and ever-present umbrella. His bowler and umbrella were in fact his favourite weapons. Steed's umbrella, with its distinctive whangee handle, was known for containing a sword, though there were other versions, including one that featured a sound recorder and one with a camera hidden under the handle for covert photography ("The Cybernauts"), and one that contained measures of whisky.
The bowler was metal plated and very hard, it could stop bullets and knock down opponents.
The Avengers (film)
[
]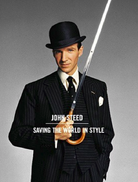 John Steed is an agent for the Ministry of Elite Intelligence. He is assigned to work with Dr Emma Peel to discover the true identity of who sabotaged the Prospero Program. Steed suspects that former ministry agent Sir August de Wynter is behind the attack due to his fascination with the weather and vast resources. Steed worked with Peel to stop Wynter from using the Prospero weather altering technology to extort nations around the globe.
Gallery
[
]